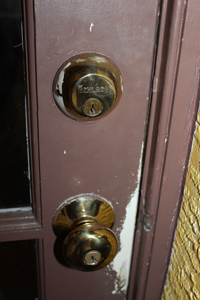 Well, in simple terms, if you just purchased your home or business you should definitely rekey it so that the previous owners, their relatives and friends, possibly even your new neighbors don't have a key to it. Many people say, "The previous owners moved to a different state so I'm not worried about them coming back in." This may be true but who else had they given a spare key to? Did they give to possibly a friend, relative or even a neighbor to watch their pets when away.  How about the realtor that sold it to you or the listing agent. Maybe they had a cleaning company in the house to prepare it for resale or a contractor doing some repair work. Even if they gave the key back, they could have had copies made. You have to ask yourself whether you'd like to know everyone who has a key to your home or not!
If you had your purse stolen with the keys in it, then you should definitely have your home rekeyed. Check with your insurance carrier to see if you have coverage for this in your policy.
If you have a business and you had an employee that quit or was fired, in either case you should have it rekeyed. The only way you can avoid this is to have high security locks with non-duplicable keys installed so they can't get copies made. That way, as long as they return their keys, you have nothing to worry about.
Even when you purchase a new home, the builder will often hand you a key that when you turn it will drop a few tiny ball bearings that will block out the builders key. This is true but how many people's hands have those keys passed through before they got to you. They could easily have made copies before being issued to you.
Rekeying your home or business is a cost effective way to give you peace of mind.